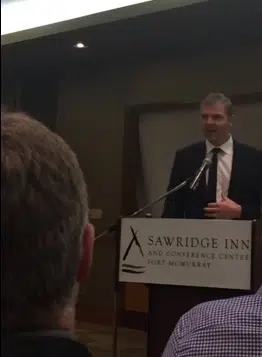 Canadians who support development of the oil sands are being outdone by those who oppose it.
That was the major takeaway from a presentation given today by Tim McMillan, President and CEO of the Canadian Association of Petroleum Producers (CAPP) at the Sawridge Inn and Conference Centre.
McMillan cited the results of an Ipsos Reid poll showing that 42 per cent of Canadians are in favour of oil sands development, 25 per cent are opposed to it and 33 per cent of citizens are disengaged from the debate.
According to a follow-up poll conducted by the same company, McMillan explained that individuals who are against the advancement of the oil sands are three times more likely to share their views than people who are in favour of the industry.
The most vocal opponents of the oil and gas industry have become a well organized, well connected, and well funded social movement, he says.
"They have been very thoughtful and deliberate about how they have approached stopping Canadian energy companies," said McMillan.
He elaborated, stating "Those that oppose us are putting on rallies, they have databases…they all work together."
In an effort to garner more support for the oil and gas industry, CAPP has launched a national campaign called Canada's Energy Citizens, which provides members a forum to gather, either electronically or in person, with like-minded individuals.
McMillan says the hope is that this campaign makes information about the industry more accessible to Canadians.
"An infographic that gives a piece of the information in a visual way will be viewed by and understood by far more people than if it's in a textbook in engineering language," he said.
McMillan added, "We have to…speak to our audience in a way that they want to be engaged, as opposed to in a technical way."
In his talk, McMillan also spoke of the possibilities for Canada's future as a major international oil exporter.