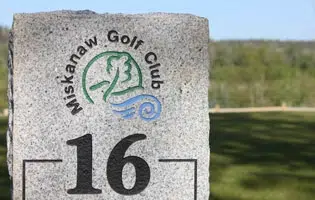 Golfing season is almost upon us.
As temperatures hit double digits this week, the area's golf courses are already looking at opening up the links.
Miskanaw Associate Golf Professional Shaun Westhaver says they're hoping to have the driving range open by the time the Masters rolls around on April 7th.
"The golf course is looking really good. There's still a little bit of snow out there, but Mother Nature's starting to cooperate a little bit with us," says Westhaver.
The long-range forecast is predicting highs above zero for the next two weeks, with little chance of snow, ideal conditions for getting courses ready.
Westhaver says when they do open their full course, golfers will notice a few changes.
"We've re-routed the golf course a little bit, just to make the traffic patterns flow a little bit better. You're going to drive out to number one and then we won't see you in the compound again until you finish on 18 which will be right by the Fox Den," says Westhaver.
He adds that their planned opening date could change if mother nature decides to dump some more snow on the region, but long-term forecasts show little chance of that.