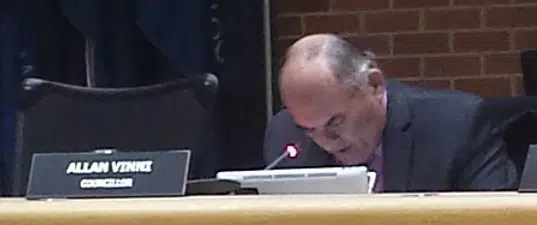 Despite only lasting 20 minutes, Tuesday night's special council meeting generated a lot of buzz.
The evening kicked off with notices of motion from Councillors Allan Vinni and Keith McGrath, and ended with a credit boost for the Regional Recreation Corporation.
Vinni's motion looks to kick-start negotiations between the RMWB and oilsands companies on how to reduce or eliminate fly-in, fly-out (FIFO) programs. FIFO is currently employed by many companies to bring in workers from other areas of the country to work on-site, instead of hiring within the RMWB.
The motion suggests that the municipality could reduce the property tax burden on oilsands companies as an incentive for the reduction or elimination of FIFO programs.
McGrath's motion was on a completely different subject, looking at a review on councillor spending budgets. The motion would instruct administration to "conduct a review of best practices of similarly-sized Alberta municipalities" when it comes to councillor budgets. It also instructs administration to present their findings and recommendations to council before July 12.
The move to review comes one day after a report in the Fort McMurray Today about individual spending by councillors in 2015.
Both motions will be debated by council at their April 5 meeting.
Council also voted 5-2 in favour a motion to increase the RRC's operating line of credit from $1m to a guaranteed $3m. Mayor Melissa Blake equated the fund to using a credit card to pay for something before your next paycheque when you know you'll have the money. The line of credit will support the RRC's daily operations, including putting deposits down on various acts.
Councillor Sheldon Germain wasn't present for the meeting, while Councillors McGrath and Cardinal chose to remove themselves from the debate and vote on the RRC matter due to the fact that they both sit on the organization's board.
Council met at 5 p.m. Tuesday to allow councillors to attend a special governance training session afterwards.