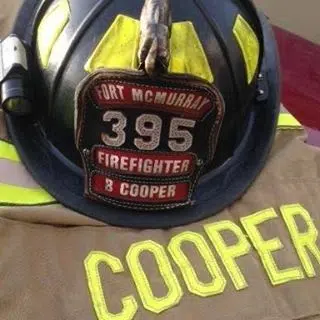 The American FDA has put the stamp of approval on Bo Cooper's second crack at an experimental treatment.
The Cooper family released a statement Monday morning saying that the 26-year-old was okayed for the second round of Car T Cell Therapy at the National Health Institute in Bethesda, Maryland.
The Fort McMurray firefighter will now undergo a few days of chemotherapy before receiving the treatment on Good Friday.
"Bo is going into this treatment in incredibly better condition than last time," Rob Cooper, Bo's father, said in a statement. "He is eating like a machine, exercising as much as possible, and getting a lot of rest."
The elder Cooper said that his son's first round of treatment wasn't effective due to medication Bo was taking to fight off an unrelated infection. The medication interfered with the T-Cells, he says.
Cooper has been the subject of an extensive fundraising campaign in the RMWB and beyond, raising almost $850,000 towards his treatment. His GoFundMe page is still active, sitting at almost $292,000.
Bo is fighting Acute Lymphoblastic Leukemia (ALL) for the third time in his life. The family said they don't expect to find out how he is progressing with the treatment for another four-to-five weeks.