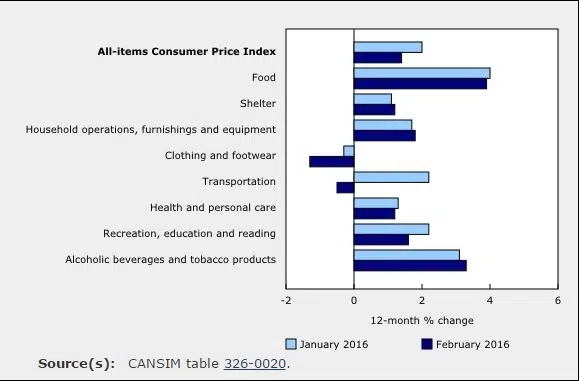 Statistics Canada has released new data showing that the cost of food in Alberta is starting to decline.
The report gives the latest Consumer Price Index figures showing that food prices have risen across the country from the same time in 2015.
The index measures average living costs in specific categories including food, clothing, shelter, transportation, healthcare, education, household operations and alcohol and tobacco products.
Price adjustments to products and services, both positive and negative, have contributed to the economic struggles facing Albertans. Fuel costs have reached record lows while the cost of food, particularly fresh produce, has increased more than any other CPI measure in the past year.
All provinces have felt the added pressure of those costs but, according to the report, "On a monthly basis, prices for fresh vegetables and fresh fruit were down in the Western provinces [in February 2016], while they increased in the rest of Canada."
The costs of all store-bought food went up nationwide by 4.4 per cent between February 2015 and February 2016.
For more information and to read the full report, click here.