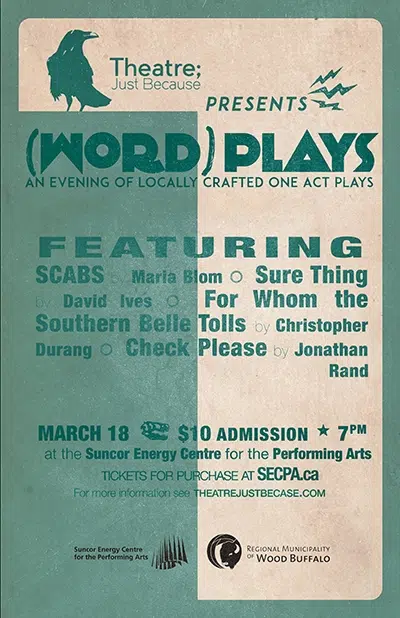 Some local theatre artists will be in the spotlight tonight in Fort McMurray.
Theatre; Just Because, an independent theatre company in town, will be showcasing four one-act plays at the Suncor Energy Centre for the Performing Arts tonight at 7:00 pm.
The performance, called (Word) Plays, is part of the company's play production series for 2016.
Michelle Thorne, Artistic Director and co-founder of Theatre; Just Because, says that the purpose of the project is to make theatre more accessible to everyday people.
"In previous years, to be involved in the community theatre here in Fort McMurray required pretty intense dedication," said Thorne. "Rehearsal schedules, as well as always waiting around…to see if you get cast in a play."
"This [production] series is really trying to give a little bit more control into the hands of the artists."
The plays being performed include: Check Please by Jonathan Rand, For Whom the Southern Belle Tolls by Christopher Durang, Scabs by Maria Blom and Sure Thing by David Ives.
Tickets are $10.00 each and are available at the box office, the Jaguar Lounge, or by clicking here.